Imposed a mandatory one-day sabbatical on myself yesterday, in order to straighten out some priorities. But I can only stay away from blogshopping for so long =P
Especially when I came across these belts that
The Shoplifters
christened such catchy monikers. With a name like
DRACONIAN BELT
, how could anybody not be drawn by sheer charisma and power alone? Images of dictators,
D&D
, all things dragons and ruthless are flooding my senses O_o
However, described as "a silver grey waist clincher with gold dragon buckle", it sounds a little bit of a misnomer to me. Upon closer inspection, I thought the intricate design more closely resembles a golden tadpole with fish scales wearing feathers >_> Regardless of what it resembles, this piece is undeniably commanding, perfect for the little power-hungry tyrant in you ;]

Draconian Belt at RM25
On the other side of the coin is this flower motif cutout belt, with just as catchy a name: Rosevelte Belt. The antithesis of the Draconian Belt, it is simple in construct, feminine by design, wide where the other was narrow, cut out where the other popped out. As a belt rather than a cincher, this piece is also more accommodating. But mistake it not for being any less arresting. I'm definitely not the only one with appreciation for this beauty; the browns are already all reserved!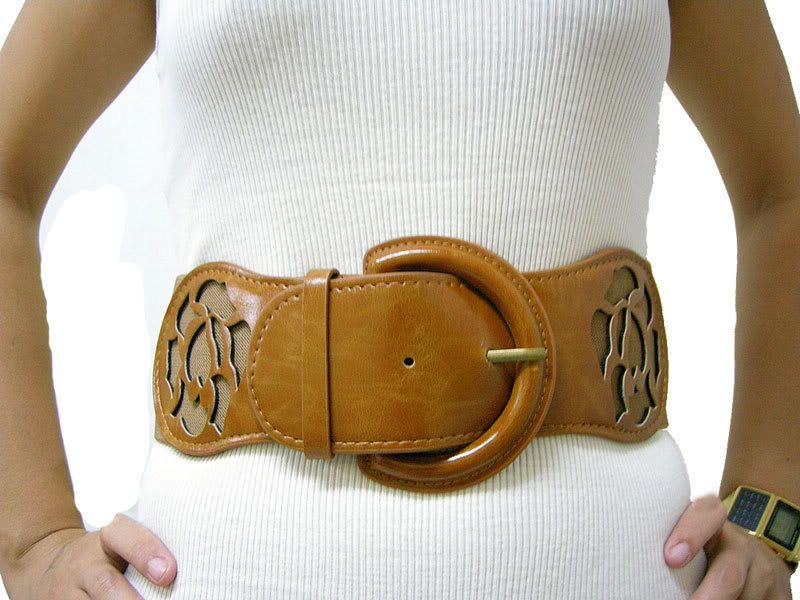 Rosevelte Belt at RM35
Ugh, Blogger's coding is such a mess.