Thought I'd get this question out of the way first before moving to today's post:
If she doesn't like gold, then why does she keep reviewing items that are gold?
Because colour is the worst yardstick for judgment of character. Woah, deep much? =P Plus, it's all about
looking
vintage today, so gold is the way to go.
Once more, what nailed it for these necklaces from
iXora
was again, intricate engravings.
Hmm, are you sensing any patterns here? =P
The vintage look, to me, has always been about pleasantly surprising little accents that complement a complete look, yet stand just as beautifully on their own, accents that beckon you to take a closer look. These pretty pieces sure has done a good job of that.
While the first three shapes are classic in design, the final one is certainly uncommon: an octogonal perfume bottle. And with an embossed surface at that. I'd say it certainly is the crowning glory of the collection.
There is no love lost between me and fine link chains but I have to admit that the vintage look would not work so well if they had come chunky instead. And from experience, I know that close-ups have a tendency to deceive when it comes to proportion and size. But I believe that the look would not work as well if their presence were too strong, too demanding. Nevertheless, at RM20-RM25 each, the price-to-size proportion is something a pauper cannot ignore =P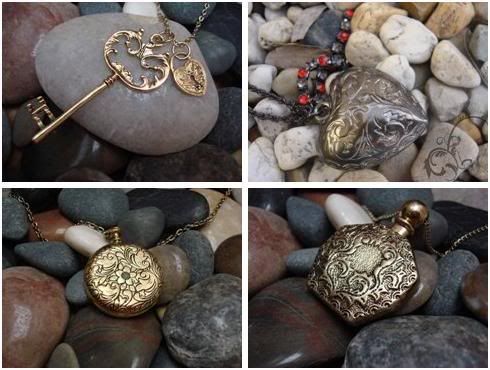 From left: Key to My Heart at RM25, Heart necklace at RM25, Round Gold necklace at RM20, Genie in a Bottle at RM25