Good God, if you're trying to kill me without leaving evidence of a crime, just keep posting up killer shoes like these on
Fringe
and you'll have a locked room mystery on your hands. Locked of course, I can't have anyone else looking at these babies now can I? They might take my precious away from me... *glares suspiciously*
Oh but who could humanly resist such
sens-u-o-u-s
seduction?! These shoes are nothing short of *cue husky suggestive voice* ooh sexy! Look at that first baby: peep toe, snake print, ankle cuff type stiletto. I think I've made my point about not being on good terms with peep toes but look at those curves. *sounds of ecstasy*
But don't stop here, check out that second baby: croc embossed, front zipper, gladiator style stiletto. I shan't say more, I need not. *dies the slow sweet death that is utter and complete rhapsody* But it's already SOLD!
arrhandsoffmybabyyermiserablescumgrumblemumble
And
then
, there's the
STUDDED
baby. Bondage + rocker + *dies a million times over* But the only blue pair is already reserved!
apoxonallyounonpauperpeoplegrumblemumble
So what if blue heels are not practical? So what if I have absolutely nothing to wear with them? So what if I could die falling from such heights?
I.W!llz.B3.T3h.W@lk!ng.S3X.H3llz.Y3@h.
No, this is
not
feel good, free publicity, buy-buy-buy. This is feel greedy, open prurience, give-give-give them to me! Cuz no pauper could ever afford these babies... ='( *bawls*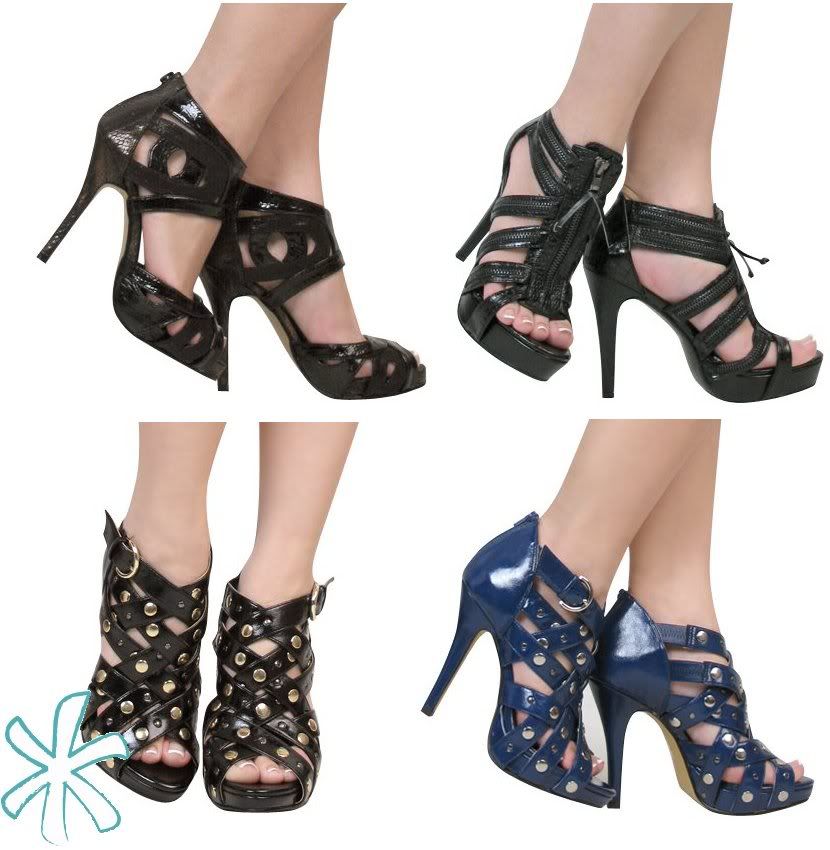 Wished (oh how I wished!): Snake Print at RM189, Fergalicious at RM199, Studded at RM199, My Stud at RM199