EEE ROBOT! I LIKE ROBOTS!

That was exactly what came to my mind when I saw this yummy hand-drawn tee from
Raunchy, Not!
. I have webcomics like
Diesel Sweeties
and
Questionable Content
to thank, or blame =P
Green robot
and cursive "

hello

"
on red PDI capsleeve V-neck tee. It's everything any young lady with a penchant for the funky and indie can ask for! Okay, that's a bit of an exaggeration
but, but, but... oh come on, it's only RM15! I would have kept it a secret from all of you and bought it myself if it wasn't only for size S folks damn all you skinny people always getting first dibs

grumblemumble rawrgrumble
.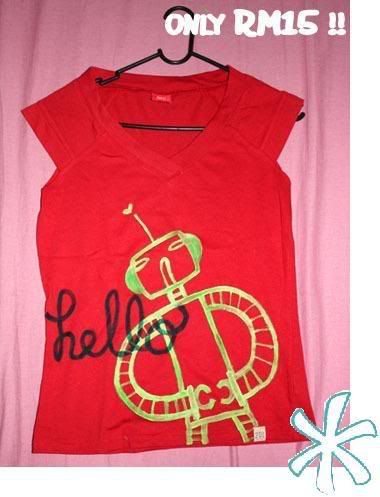 Wished (in vain):
Hello Robot Tee
at RM15