Update: Tiz gone =(
Supposed to be studying for exams right now but talking about clutches, I cannotcannotcannot
NOT
talk about this clutch from
Just Bag It
which I've wanted since oh, only about
forever
! Each day, for a few moments, I anxiously, almost fearfully, search the page for that awful word
SOLD
and, with relief, cast a longing eye upon this rainbow beauty before saying farewell, but not goodbye, til the morrow arrives again.
Unlike the single-coloured clutch mentioned before, this one can instantly perk up an outfit without having to worry about a matching palette. It doesn't come as a sling/shoulder/wristlet/clutch, but I imagine it can help crank my creative juices up for some DIY fun. Although it won't be the best choice for a formal dinner, it has just the space I need: "
A clutch that is spacious enough to fit your belongings such as a your cellphone, purse, small make up purse, shades, digicam and a little bit more!
"
Since
this Dorothy Perkins clutch
had come into the possession of a housemate and blogshopper-in-arms, I've taken it as a sign that it is high time I got myself one. I've always believed that in anything, go for broke or not at all. This loud bold clutch calls me by name!
I'll get you, my pretty, you can't elude me forever. Soon you will, you
shall
be mine.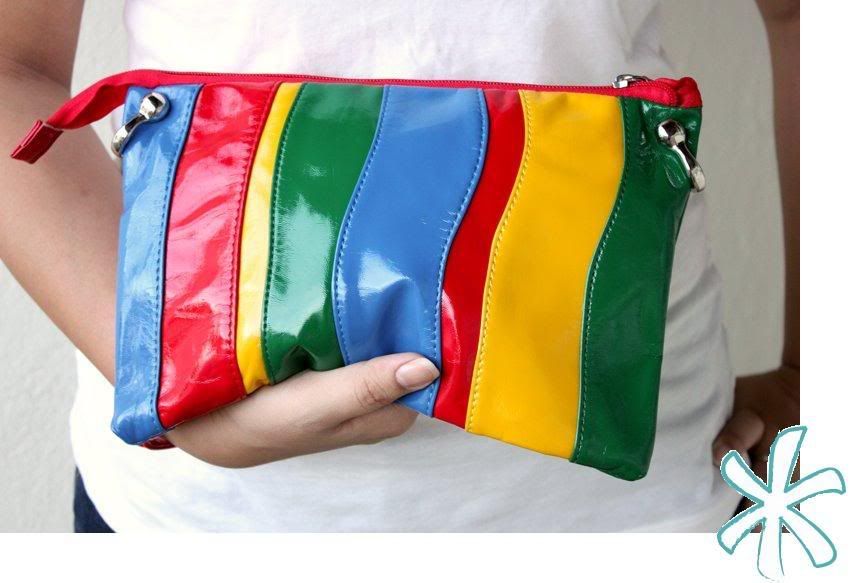 Wishwishwished: Rainbow Clutch RM35